Bed Rugs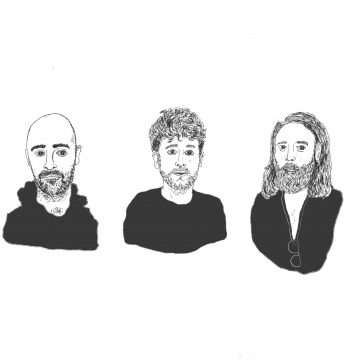 Biography
Bed Rugs : A Grand Psychedelic Journey So far! 
2012, Bed Rugs released their debut album "8th Cloud" with STUBRU hits "Whats does it mean?" and "Purple Pill"! 8th Cloud was considered Bed Rugs early experimenting wth the fine mix of 60s psychedelica and 90s indie rock! The album came out early 2012 and was the first album released on new born Antwerp indielabel WasteMyRecords! 2013: just 

one year later

, the rising of Bed Rugs really took off with "Rapids", a 5 track ep mixed by Paul Butler, the producer of major albums of international superstars like Devendra Banhart & Michael Kiwanuka! It was Paul Butler himself, who was keen to mix the Bed Rugs follow up ep, because he really liked the sound and multi vocalization of Bed Rugs! With no budget at all, Bed Rugs could convince Paul Butler to be the right man for the job! Thx to Paul Butler, the Rapids Ep came to ears of psych indielabel Ample Play UK and together with Burger Records in the US, they released the Rapids EP in the UK, EUROPE and the US! Bed Rugs was introduced in the worldwide psychedelic scene with raving reviews in NME, Q, SHINDIG, THE QUIETUS and on American hype blog BUZZFEED! Thx to all these crazy shit, Bed Rugs was invited to play Liverpool International Festival of Pschedelica in September 2014 and shared the stage with the biggest bands of the psychrock scene like GOAT, SUUNS, THE ALLAH-LAS & WOLF PEOPLE! Bed Rugs, often compared with Tame Impala, had arrived! 2015: the Rising of Bed Rugs continued with the release of "Cycle", afterwards considered to be of one of the best albums released that year! 'Cycle' was welcomed with 40 raving reviews and all press agreed: this was the best album of Bed Rugs so far! With 2 massive STUBRU hits, "Specks" and "Piles", Bed Rugs conquered the hearts and soul of the Belgian press and fans and from then on considered to be the 'Godfathers' of Belgian psychedelic rock! Many young bands try to copy the sound of Bed Rugs and The Belgian Psych Scene was born! Following the release of "Cycle", Bed Rugs toured internationally with Balthazar & Intergalactic lovers. And then they took a long break, to reflect on their massive success! 2018: More than 3 years since their breakthrough album "Cycle", Bed Rugs are finally back with a colossal new double album called "Hard Fun Grand Design" out on 

March 21, 2018

! Bed Rugs meanwhile transformed  from a 5 man band to a hardcore 3 piece band! The Founding Fathers of Bed Rugs as a core! Noah, Stijn & Yannick said goodbye to Arne/bass and Yorgos/keys and continued as a Holy Threesome Fuck! In the spring of 2017, they took a plane to Athens-Georgia/USA and crashed in the studio of Derek Almstead/The Elephant 6 where they stayed for 5 weeks to work on new material! The Elephant 6 was a collective close to grand psychedelic bands like The Olivia Tremor Control & Neutral Mik Hotel! Together with Derek Almstead they recorded a Collosus new Double Album called "Hard Fun Grand Design"! They returned to Antwerp with a 26 song Fat Vinyl Master with no leftovers but all Grand Songs! Unlike their previous albums, this album is no psychrock or indierock album, but a soft pschydelic trip through the world and mind of Bed Rugs! No singles, no catchy riffs but a Grand Trip where Bed Rugs show that they are also very skilled writing grand songs! This is probably the best shit Bed Rugs has ever produced, a double album u would expect from international stars like Devendra Banhart or Tame Ipala, but they never took it this far! This is without any doubt the Best Double Album of 2018 and probably the Best Album ever released on WasteMyRecords! Please listen with care to the 26 Grand and Fun songs of HARD FUN GRAND DESIGN  !      
Discography